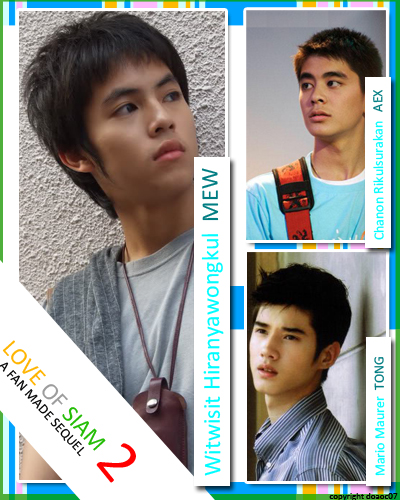 The Love of Siam 2
A Fan Made Sequel
Story Contributors:
doaoc07
expresswhatsinside
Tong comes back searching for Mew love only to find out that even true love can't wait forever. Mew is torn between choosing his true love or his current lover, Aex. What will you do if your one true love comes back to you? How will you choose if you can't even remember.
It's a work in progress guys. You can all share your ideas. Just PM me or expresswhatsinside (mack). Hohoho!

Story Timeline/Outline/Guideline for those who want to help here's basically what we got planned.
THIS IS A SUPER SPOILER! IF YOU HAVE NO PLANS OF GETTING AHEAD OR NO PLANS OF HELPING PLEASE DO NOT OPEN TH
IS.
Spoiler:


*Font in bold are the main events/chapters that happen in the story

- Intro: Rainy encounter of the three hearts -DONE-

- tong-aex argument -DONE-

- mew's accident -DONE-

- mew from the past awakens -DONE-

- tong-aex conversation -DONE-

- Aex finds out what's really wrong -DONE-

- Aex's Struggle (enduring the pain of being forgotten by his love) -DONE-
- aex's goes back to the hospital with mew's stuff and their
romantic mementos, but stops himself because he sees mew very happy with tong) --DONE-

- aex talks to tong about seeing mew happy. that aex will let this happen for now. but when mew's memories come back that's the time tong should be ready. aex tells tong that this is his chance to right his wrongs. to start over. --- then tong remembers what june said about life giving us chances to start over again -- -DONE-

- aex is always staring into the wind. unable to focus. and mostly alone. not smiling. just sad inside. but tries his best to smile, while pretending to be a friend of mew. -DONE-

- Mew's Recovery and Distress (Living a dream in a world of lies and wakes up torn between his dream and reality) -ONGOING-

- a week has passed and mew is released from the hospital

- mew is now able to write great songs once again because of tong's return. AB members, especially aex notices this, which gives him even more loneliness.

- a few months after mew got released from the hospital he sees the box that aex brought to the hospital. he was curious and finds out about everything. he regains that parts of his memories that were lost.

- mew and aex emotional portion haha! mew apologizes for causing aex so much pain and that mew chooses to be with him. aex tells mew that he was happy to see mew happy but he is happy that mew chose him.

- mew and tong emotional talk. mew tells tong that he remembers everything about aex and he chooses to stay with aex. tong is saddened but accepts. mew tells tong that he does still love him but he their time has passed. mew tells tong that they can be friends. mew is angered and interprets everything that tong did as lies. he tells tong to stay away from them as much as possible.

- Tong's Struggle (facing the consequences)
- Tong can't make himself to leave mew. he continues to love mew from a distance. giving anonymous help when mew needs it.

- aex notices how mew isn't as happy as he looked during the last few months.

-aex invites tong to the august band concert at siam square

- aex has made the decision to live a life without mew.

- Concert at siam square (A heart says goodbye)

- aex talks to mew and tong.

- aex leaves

- mew and tong romantic dialogue

- end

Last edited by doaoc07 on October 7th 2010, 11:46 pm; edited 5 times in total